Many have asked how much it takes to run our emergency programs. Here are some ideas:
$25 Extra cleaning supplies for a week!
$50 What you would have spent on a Fourth Fest ticket!
$100 Individual milk servings for a day of Grab N Go meals
$365 This pays for the to go containers for a week, including fork and knife, container, and bag.
$500 You've sponsored meals for a day. Thank you!
$1000 Meals for the long run! This builds our capacity so we can keep serving into the summer.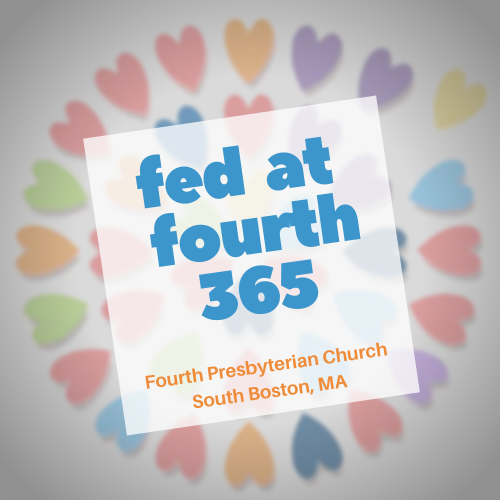 At Fourth Presbyterian Church, we feed people, in some fashion, 365 days a year. Support our campaign on #GivingTuesdayNow to help us nourish bodies and souls during these difficult times.
Dear Friends of Fourth:
These last several weeks have been a time of creative reinvention for all of us. Here at Fourth Church, we've had to recreate worship for an online Zoom format, re-tool how we stay connected, and thoroughly re-design food pantry distributions. Now we need a creative alternative to our spring Fourth Fest fund-raiser.
We think we've got one: #FedAtFourth, a social media campaign on Tuesday, May 5. Our goal is to make sure we can keep feeding the families of our neighborhood in the coming months.
We've been feeding people in all kinds of ways for decades at Fourth Presbyterian Church. We feed people spiritually through worship, prayer and study; and we feed them emotionally through extensive programs in recovery and post-traumatic healing. We've fed families artistically through dance, music and nearly 100 children's theater productions. And most plainly, we feed families physically with food, both through a large Food Pantry (groceries for some 200 families every two weeks), and a Summer Meals Program that serves 6000 free meals to young people every summer.
Even in Covid-times, we are working hard to make sure the community is nourished – through nightly prayer services online, through grocery distributions and deliveries, and now through the preparation of over 100 "Grab n Go" lunches every weekday. (See the recent Herald article: https://www.bostonherald.com/2020/04/08/grab-go-meals-at-the-fourth-presbyterian-church)
We've fed families in the past. We are feeding them right now. And we will feed more this summer. While program particulars will depend upon the latest public health guidelines, one way or another, we will feed families through July and into August.
To make that happen, we are holding a #FedAtFourth social media campaign on Tuesday, May 5 (which is also the day for GivingTuesdayNow). Our goal is 365 donors since we feed families 365 days a year! The digital door is open right now at www.fourththboston.org/fourth365, and here are three ways you can help us:
Make a donation today. Go to www.fourthboston.org/fourth365. Get us on the road to success even before May 5.
Invite friends and family to do the same. Call, email, text, use whatever tool you prefer to grow our participation. #fourth365 #fedatfourth365 #fedatfourth.
Like our campaign and share it with your network. And please be sure to follow us on Tuesday, May 5!
Like so much of how we are doing church these days, a big social media campaign is new terrain for us. But we like learning new things, and the heart of this effort is the same mission that has driven us for decades: Love God, Love your neighbor.
Thanks for whatever you can do to help us.
Pastor Burns Stanfield and the Fourth Fest Executive Committee